By Tara Giles
It was early August, six months after COVID-19 shut down our normal way of living, that I had an 'a-ha' moment. I had been getting out on the trails several times per week, as my new laid-back schedule afforded me more time than I knew what to do with. I took note of how busy the trails had become. This was a refreshing sight, however I knew that what I wanted from the forest and the peaks required something more.
The more time that I spent away from the chaos, basking in the quiet and solitude that only climbing a mountain can bring, the more I began to crave more remote peaks and trails. With a special talent for getting lost I never venture too far solo on a new trail.
I called the same person I have been calling daily for the past 33 years. My oldest childhood friend Steph, naturally became my favorite hiking pal (we all have one). Busy lives had kept our time spent, few and far between over the years, but since the shutdown, we had been hammering the trails just about daily. "Steph, lets head north tomorrow," I said. Easygoing and always up for anything, Steph replied, "Let's do it," her typical response. Heading north from my hometown of Whitefield meant that whatever was in store for us would certainly meet the criteria of being more remote.
We began to drive down Nash Stream Road. There wasn't a car in sight, or any sign that anyone had been nearby. "Yes, this is perfect!" I said. "Let's try not to get lost today," Steph joked.
Backpacks were fastened, water was plenty and of course we had to make sure we had our 'crispers' on hand. A summertime hike is typically accompanied with a nice cold brew, we affectionately refer to as a 'crisper'.
It wasn't long before we realized that the Sugarloaf Mountain Trail was no joke. Chasing Steph's daughter, who is 26 and fast, made for a beast of a tear up this steep mountain. We were able to keep pace on that hot day, but what was more apparent was just how unique this trail was. We've all had those moments where a trail or a peak just resonates with us.
There was no one…anywhere. As we climbed all we could hear was the chirping of birds, the sound of our boots hitting the roots and rocks slowly rolling past our feet. Everything was a deep green, the sky was blue, and the trail delivered a peace that one can only witness at 6am. It was so remote, that the history buff in me could only think about how this untouched section of land likely doesn't look much different than it did during the last pandemic roughly 100 years ago.
As we approached the summit and the views met our eyes, we were instantly stunned. "How come we have never been here before?" I asked. "This is, oh my gosh, what, this is, woah, stunning," I said. I tend to have a lot of things to say when first summiting before I quiet down and take it all in.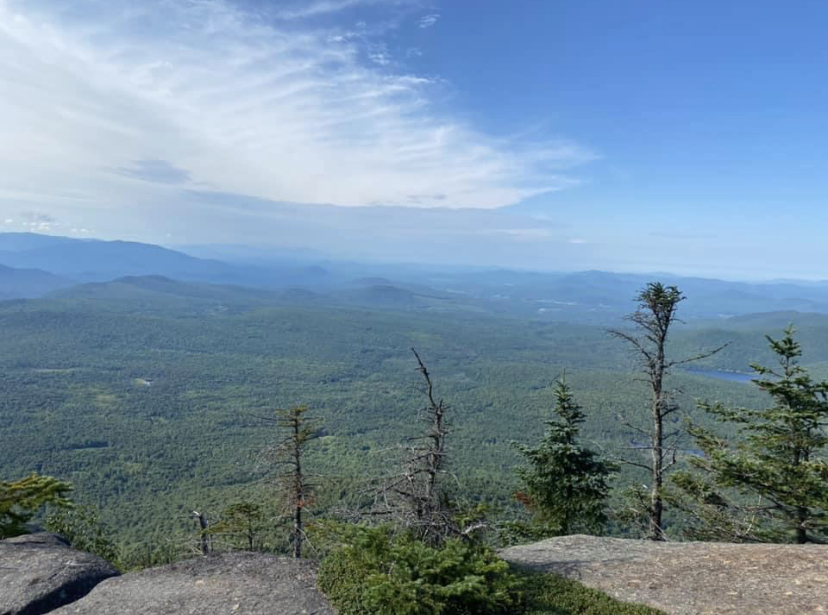 The summit of Sugarloaf in August during an early morning trek

It was when I walked out towards the east view that I found myself teary-eyed. Maybe it was the hard work it took to make it to the top by 7am, maybe it was a bit of a release acknowledging what beauty is still afforded to us if we just go after it. Maybe it was the appreciation I had to be able to belly laugh and carry on with my oldest friend as we hoofed it up this mountain. I knew in that moment, looking out at those epic mountain tops that I would never take for granted my ability to climb these peaks again.
I looked over my shoulder after hearing the crack of a crisper being offered to me. "It's a coffee stout, totally acceptable this time of day," Steph joked. We sat at the summit and made a pact to try to find as many remote peaks as possible, with this trail being hands-down a new favorite.
I've always been taught by my father to look for the moments and the people that bring you back to yourself. Our fast-paced life tends to blur who we truly are at times. What better place than on top of a mountain during a pandemic, with an old friend to remind us.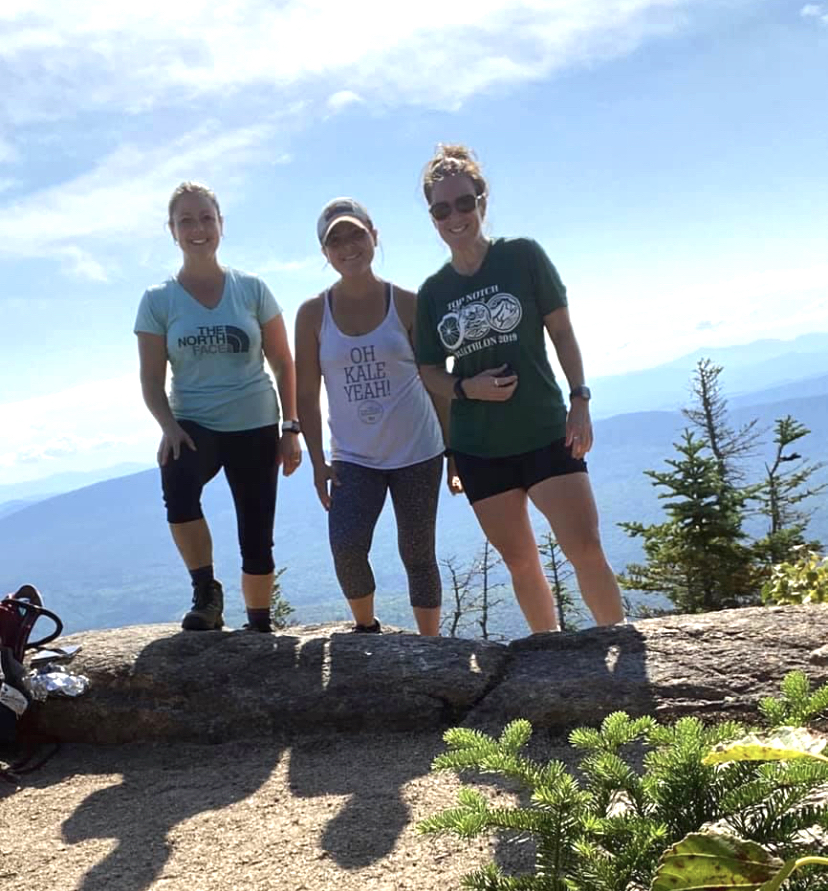 Steph, Akaylah, and the author after summiting Sugarloaf