TRAIL NOTES: The NorthWoods Stewardship Center crew of eight has completed work on the new Trio Trail from the Percy Loop Camp on the north flank of North Percy Peak all the way to Trio Ponds Road, where the path links up with the new Pond Brook Falls Trail. They have pulled out their tents and gear and are headed up to work on the last bit of restoration work on the Deer Mountain Firetower Trail five miles south of the Canadian border.
The Cohos Trail Association will hold a work day on August 6th to sign and blaze the new Trio Trail. We'll post info about this effort shortly.
There are some new yellow-topped grade stakes standing in the large field near the southern end of the Slide Brook Trail in Jefferson. These stakes should make it easier for folks to find their way both north and south across the field.
A draft proposal for a new trail from Coleman State Park to Lake Francis has been written. It will get some tweaking over the next week or two and be ready for submission to NH officials to see if the proposal will fly. We'd very much like to build this new pathway in 2018.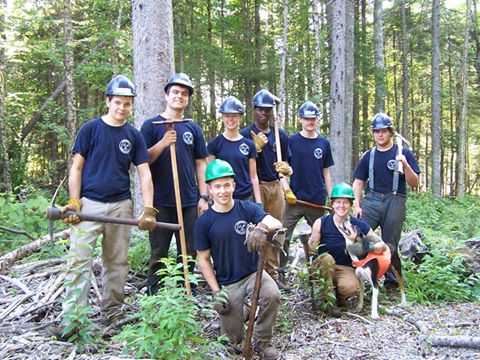 We our hoping to get word shortly about being able to move ahead with the development of a new shelter in Stark. We'll keep you posted on this critical issue.
Moose are already making good use of the new but not officially opened Trio Trail. Lots of tracks in the soils and some moose scat.
The beaver work on the south end of the East Side Trail has been dismantled a bit to make it easier to get through. Two trees had come down on top of the bundle of beaver chewed branches, too, making it a bit of a challenge to get around. No problems now.
Awaiting the final formal okay to place sign kiosks in the Pondicherry Wildlife Refuge, one along Route 115 and one along the Col. Whipple Road.
Observed two white tailed deer, an osprey, a goshawk, one screaming grouse (nearly stepped on it), half a dozen red squirrels, songbirds aplenty, and 500 deer flies on the bushwhack from Coleman to Lake Francis. Moose sign, but no moose. Black bears have been tearing up old logs to get at the ants. Came across bear scat but no bruin, unfortunately.
Ken Vallery photo: the NorthWoods Stewardship Center backcountry trails crew that just completed work on the new Trio Trail in the Nash Stream Forest and is now off to northern Pittsburg to put the finishing touches on the Deer Mountain Firetower Trail.